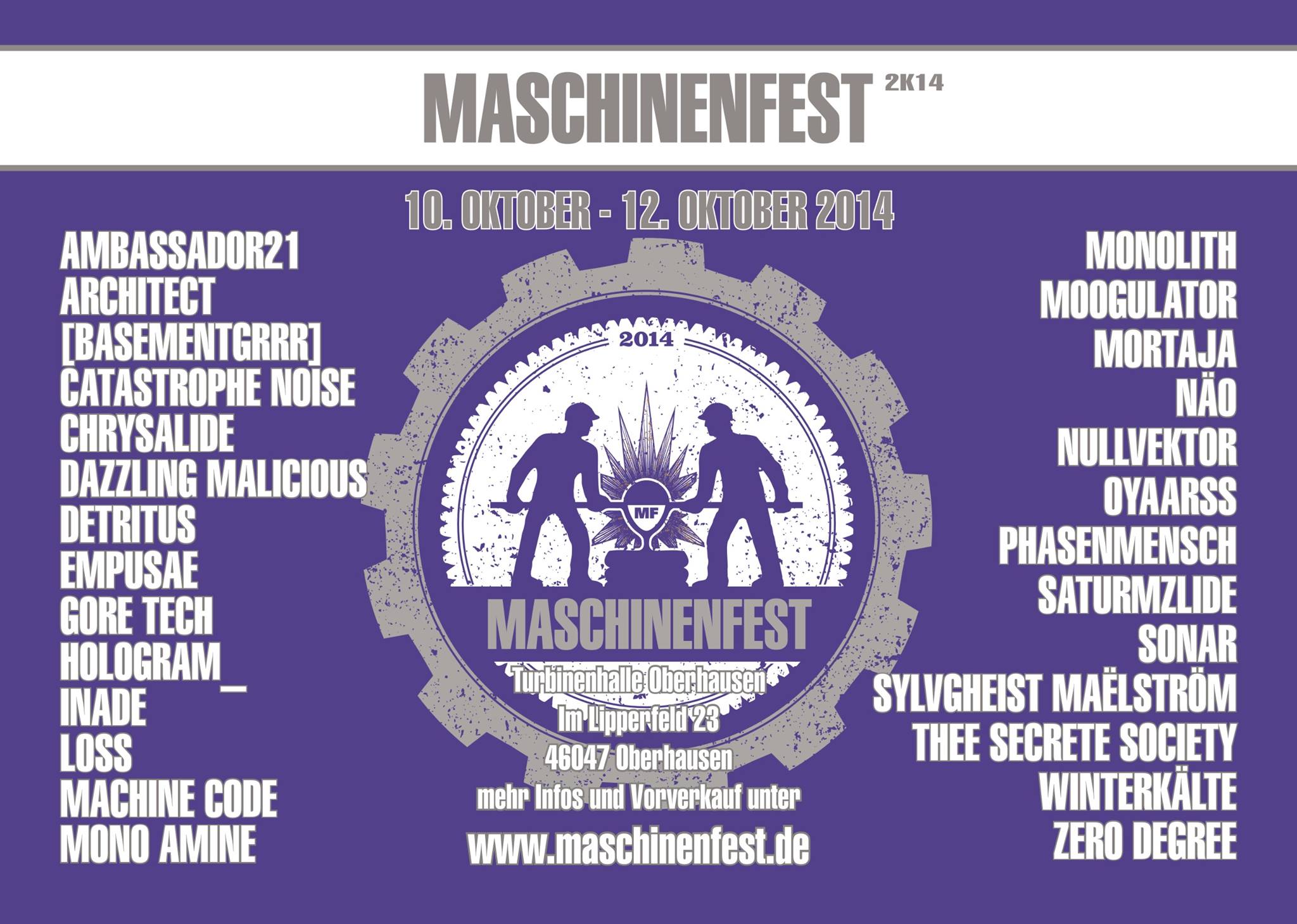 MoogulatoR , On Tour
9. – 12.10.2014 Maschinenfest 2k14, Oberhausen, Turbinenhalle (Moogulator live SUN / DJ THU)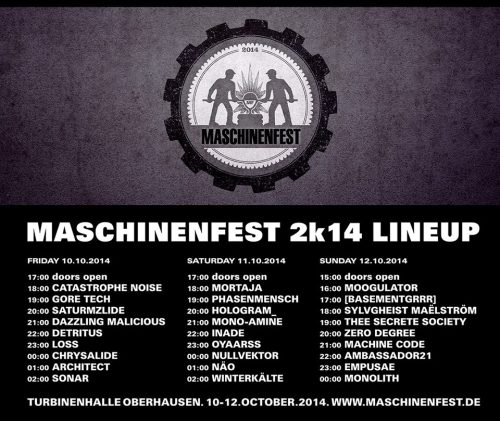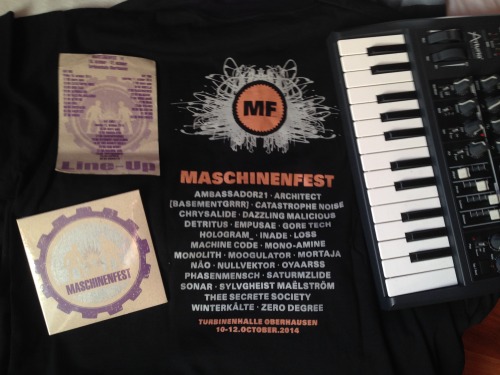 Maschinenfest is near – Moogulator will play live on sunday 16:00 .
and Thursday – free entry warm-up party. will do a little dj set there (wed)
---
und für den 10-12.10. dann live Performance (Moogulator am Sonntag – früh da sein! 16:00!):
This is the timetable for MF 2k14 – and the official flyer.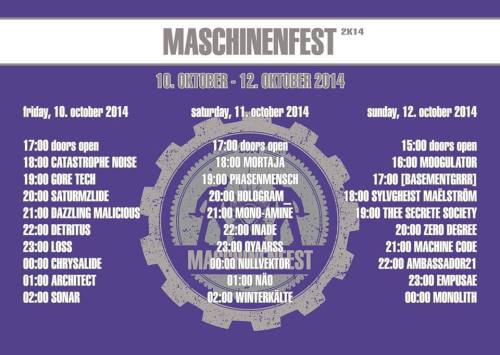 friday, 10. october 2014
17:00 doors open
18:00 CATASTROPHE NOISE
19:00 GORE TECH
20:00 SATURMZLIDE
21:00 DAZZLING MALICIOUS
22:00 DETRITUS
23:00 LOSS
00:00 CHRYSALIDE
01:00 ARCHITECT
02:00 SONAR
saturday, 11. october 2014
17:00 doors open
18:00 MORTAJA
19:00 PHASENMENSCH
20:00 HOLOGRAM_
21:00 MONO-AMINE
22:00 INADE
23:00 OYAARSS
00:00 NULLVEKTOR
01:00 NÄO
02:00 WINTERKÄLTE
sunday, 12. october 2014
15:00 doors open
16:00 MOOGULATOR
17:00 [BASEMENTGRRR]
18:00 SYLVGHEIST MAËLSTRÖM
19:00 THEE SECRETE SOCIETY
20:00 ZERO DEGREE
21:00 MACHINE CODE
22:00 AMBASSADOR21
23:00 EMPUSAE
00:00 MONOLITH
UPDATE – video from audience..
Official Event Link FB
The Site is now  up for tickets and stuff NOW!
@ Oberhausen, Turbinenhalle, Germany – Im Lipperfeld 23′
We will also have an exhibition with art from our special friend Dede Suhita he will also be at MF 2k14!
This is the first part of the line-up for MF 2k14:
you can order your ticket here : www.maschinenfest.de
---

am 9. gab es eine Warmup-Party, wo ich als Auflegender Plattenunterhalter dabei sein werde, eigentlich untypisch, aber ich mache es..  Achtung, das Linup ist unten korrekt – Roger Rotor wird Frl. Linientreu ersetzen (sie wird sobald möglich wieder dabei sein):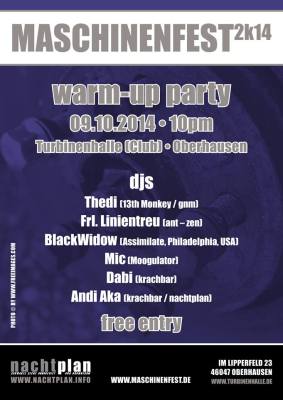 FREE entry! (no festival-ticket needed here) <— wichtig!
DJs: – last minute change in lineup – final one is:
360 minutes, 6 djs.
Timetable (so far):
2200-2300 BlackWidow (Assimilate, Philadelphia, USA)
2300-0000 Mic (Moogulator)
0000-0100 Thedi (13th Monkey / gnm)
0100-0200 DJ Basstardo (the swiss army-knife from hell)
0200-0300 Dabi (krachbar)
0300-0400 Andi Aka (krachbar/nachtplan)Eingang/ Warnung: zum Club ist an der Seite. Stahltreppe hoch. Cosmo Club.
Come early, stay till late. see you later. FB Link WARM UP
thanks for pics: Jane Garnet, Ellen Sturm, Alexander Marco, Gunter Grosse, Waldemar Müller, Nina Noisemachine /LAL, Markus Naumann, Bertrand Robion, Mac Ned, André de Kok
can be found FB under these names to say thank you and to click LIKE…!
my own images can be found here – please check out all those fantastic images – since there were so many cool artists worth a listen & look! – it's not really complete just looking at me ;)
flyer when the time tables was'nt up..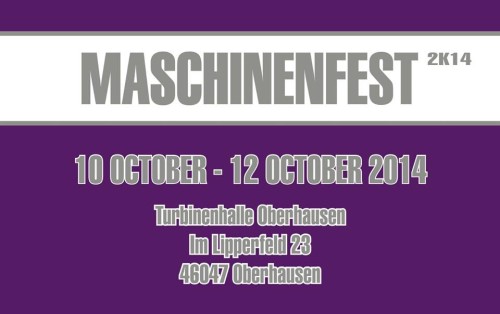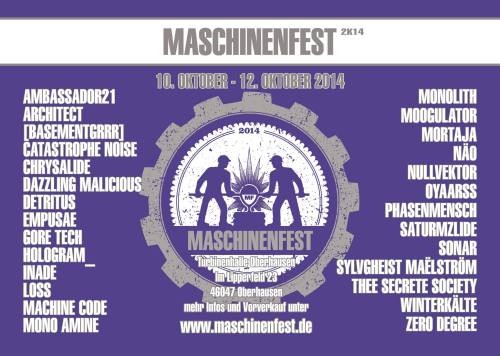 find one track of each artist on the Maschinenfest Compilation
Moogulator's unreleased track is "in Synchrony" that was played on the Maschinenfest the first time..
the double CD Set looks like this and will still be available…
I got some but you can order them at Pflichtkauf as well.
ok, why not some images of MF? Here it is..