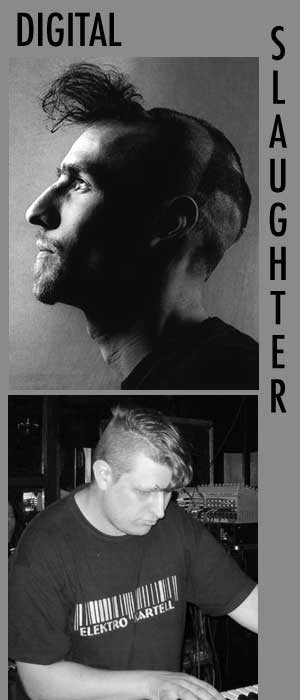 Projects
Digital Slaughter today
Digital Slaughter is Oliver Freitag – schl8ta  but Moogulator "helps/helped" on stage and some collabs done, some tracks made that may appear here and there on compilations or on stage.
remixes or tracks: – we did some in 2009/10..
We decided to keep this project alive but not as a main project of some of us. schl8a does MMJ Morphmen and Moogulator still is Moogulator. You won't find a lot of videos by Oliver on youtube anymore since they deleted his account(s) under the MMJ MORPHMEN project (remixing and more). I deleted that old myspace thing and so there's not much left – today.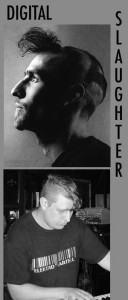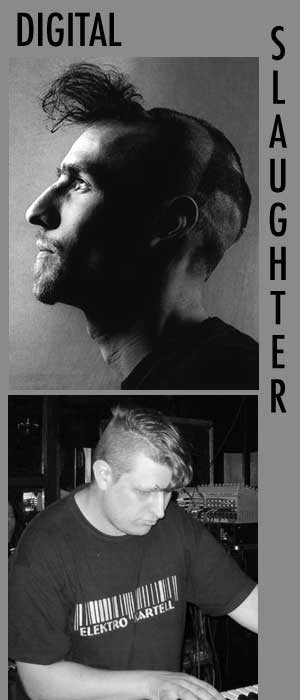 Releases
tapes / MC
the augury
the victim
Compilations:

# Human Deadline Compilation (HD 1993)
Volition / Consequence -Martinet /1 Edit
Volition / Consequence-Psyrulent Edit /3
Volition / Consequence-Diversity /2 (on this CD only)
Volition / Consequence-Protection /2 (on this CD only)
Graft-Causal Connections
Graft-ReStrict
Digital Slaughter-You are here again (the devil in me PART2)/ReVoc2.1
Digital Slaughter-Moontrap
Cross halved joint-Closed Eyes, Chained Souls
Cross halved joint-TV Agony
Cross halved joint/Persephone D.S.S.D.
Notstandskomitee (Malte Steiner Projekt)-Der zweite Angriff
Notstandskomitee-Zusammenbruch
Das Kombinat-Deformation
La Systema Dolorosa / Boris Polonski
(Heute Club Off Chaos, EAT, und andere)-Die Prozessionsarmee
La Systema Dolorosa-116
* Graft, Volition and Consequence are Projects of Moogulator
Induktion, Varianz Und Deren Folgen
CD
* Digital Slaughter – Apathy
* Genital A-Tech – Beat Me
* Dementia Simplex – Bugbear
* Digital Slaughter – Determined
* Dementia Simplex – Hollow Moon
* Dementia Simplex – Immune Deficiency (Reincarnation)
* Digital Slaughter – N-Lost
* Digital Slaughter – Narkotium
* Suicide Commando – Never Get Out (Insecticided)
* Digital Slaughter – Strain
* Suicide Commando – Take My God Away
* Genital A-Tech – Technology
* Suicide Commando – The Ultimate Machine
* Genital A-Tech – Aus Lauter Liebe
* Dementia Simplex – Cinderchild
* Suicide Commando – Never Get Out
Rotation Divergenz 2
LP (Kugelblitz 1991)
Individual Totem – Tomorrow
Trends In Taste – Waiting For The End
Brain Distorsion – Off The Line
Genital A-Tech – Trauma
Dr Sommer Experience – Manuela 14
Final Savage – Dull Life
Suicide Commando – Intercourse
Cyber – Nervous,Club Edit
Dementia Simplex – Immune Deficiency
* Digital Slaughter – Im Schritt Der Zeit
Der Liederkranz – Rosehead
Rotation 3
CD (Kugelblitz 1993)
Individual Totem – Starting Rotation
Society Burning – Vision(AC42)
Ferro Concrete – Redemption
Lescure 13 – People
DY .Sturb – U.nited S.adist A.lliance
Dive – Sickness
* Digital Slaughter – Alone
Dementia Simplex – Cenophobia
Paralyse Syndrom – Teledildonic
Nacht Raum – Tiere Schreit
Malaise – Submissive Mix
Interzone Inc. – Century Xx
Individual Industry – Paradise (Cello Mix)
Suicide Commando – T.V. Obsession
Kabelbrandt – Claustrophobia
Genital A-Tech – Outrage (Speed Version)
Hund Katze Pferd – Hoch Auf Dem Gelben Wagen
Electronic Youth Vol. 2 CD (M.R.S.P. 1994)

Rescue – Trip

Kalte Farben – Alpträume
Absent Minded – Died In A War (V.2.0.)
T.H.D. – Hypocrisis (Malevolent)
Controlled Fusion – Technique (Mix '94)
Digital Factor – Mindbooster
No Comment – Invader (Youth Invasion)
Cyber Axis – Illusions
Logic/Naive – Never Pleased (M-Edit 1.8)
* Digital Slaughter – Irresolute
The Vermin – The Atamen
Godheads – War Of Violence (MIA Remix)

Birmingham 6 – Policestate (Demonstration Mix)
# 1654 – The Cave Vol. 1 CD (Hands 1994)
1654 – The Cave Vol. 1
CD (Hands 1994)

Ah Cama-Sotz – As The Sun Will Rise

Severance – Black Night
Crawl/Child – Brought Before You
Raison d'Etre – Chalixtins
Nouvelles Lectures Cosmopolites – Daäth
Croniamantal – Decanio
* Digital Slaughter – Doubts
Clock DVA – Solaris
Altrum – Universum
Cranioclast – 19 Flowers For A Puplicity Seeker
T.A.C. – Dirty Star
Kirlian Camera – Eclipse
Legion – Komarov
Dive – Power Of Passion (Live)
Insekt – Zap In The Future
Nett-Werk-Ein:S (Cat Killer) 1995
Six And More, Digital Slaughter, Hund, Katze, Pferd **, Nobdrun, Call, Salt, Harald "Sack" Ziegler, Bär & Co, Westland, Der Minotaurus, Rauschunterdrückung, Schmerz der Welten, Rabenhirn, Garbo-Ex, Neuzeitsyndrom, ((Infected)Wound), T.E.V.O., Ars Moriendi, Kult Goes Culture, Tian An´Men, Substanz T, Wy Did She Hang?, Das Fröhliche Wohnzimmer, Mr. Moto, The Consiracy, Simulation