Hey everyone,
from Phasenmensch / Kreative Unruhe
really proud to announce the first chapter of our "Kreative Unruhe" compilation celebrating our first three events and all the great people, artists and vibes that were present during those nights.
here it is – you can but and get it on Bandcamp.
The release is available sind 25.November this year as a digital and as a limited tape release and it will feature exclusive tracks by nearly all the artists that have played at "Kreative Unruhe" so far:
Aphexia\\\[basementgrrr]\\\Capsular\\\Chaotalion\\\Dirk Geiger [IDM, Glitch, Ambient]\\\GRAPH\\\Ine-San\\\JOIX\\\M.A.O.\\\MC1R\\\Moogulator\\\Phasenmensch\\\SixTurnsNine\\\Tonfarben\\\Voidscream
Mastering by Voidscream
Design by Cosima Caspelherr and Phasenmensch
Please like, share, support and of course expect another "Kreative Unruhe" event sometime in 2017!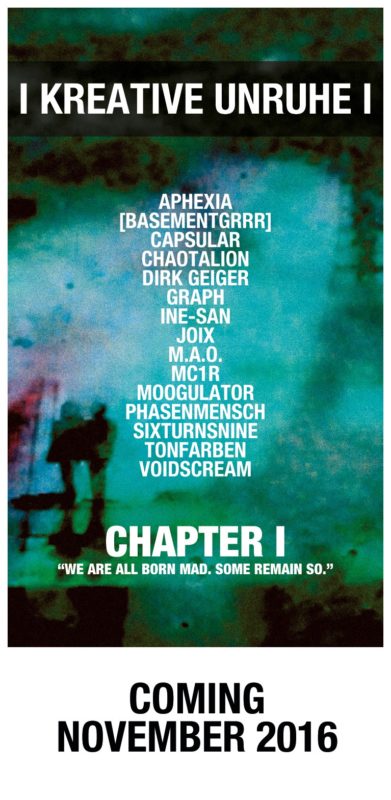 concerts: Moogulator will play 11.11.2016 in Aachen with Phasenmensch & ICD 10 and Joix! Good chance to seeing them all..