ConseQuencE , Projects
Moogulators projects till 2000's: From Moogulator to ConseQuencE!
MoogulatoRs music projects:
* Moogulator (you are on the Moogulator site)

thousands of robotic arms playing music – IDM – abstract beats – compuphonic restructured clicks
this is the main music project today. live + studio work.
– Music/Synth Wiki: Live Profile
– Discogs: www.discogs.com/artist/Moogulator

dAdA-iNN
is a live oriented music project together with bOOmbaum and NilleAllstar
iNNtelligent beats and abstract electro to drum 'n' bass and clicks 'n' cuts and some more.. don't miss them live on stage!
listen to dAdA-iNN and hear about – music on 2 movies, one of them being "458nm" honoured at siggraph and ars electronica 2006.
Special Jury Honors – Siggraph (Team), 2006
Best Animation Short – Mundos Digitales (Team), 2006
Ars Electronica "Goldene Nica" Award für Filmsound (Film: 458nm.de)
. www.dada-inn.de
Live Profile @ Synth + Music Wiki

THE OLDER PROJECTS..

ConseQuencE
ebm / industrial – mind movie
ConseQuencE is an electronic project that was deeply influenced by industrial / electro and went to more "mindmovie" kind of structures later..
exists since 1985. started with desolated victims / volition tapes and some CDs..
hear and see more about ConseQuencE:
Profile Music + Synth Wiki
www.CONSEQUENCE.info
free downloadable CD ConseQuencE "Real?OR.noT"!! up since end.oct.2004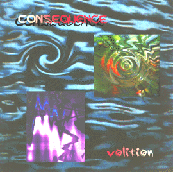 Frei vom Hieb, a Free Jazz Project,
Impro-Only – mostly live, – with F.Wilke (Brass), U.Jochum (Sax, Clarinet,..), H.Graef (Drums), Pattysplanet/P.Stuck (Sax, Electronics), and Moogulator (Electronics)
electro innunk / liquid sky lounge – club camouflage
is not a project, it was a live jam in cologne, germany till early 2005..
moogulator plays in dr.walker's club camouflage with other electro musicians..
info & more – dr.walker moved to crete – so find some rest info here under HEAR/AUDIO:


Volition: see Consequence – a side project.
Graft (with Frank Hoffmann – this project ended in the 90ies)
industrial / ebm
– infos / some mp3 downloads on ConseQuence site)
Karma Propaganda (one day synthpop project with C.Hennes aka Seth Ghwyndion aka La Luna oc Nithar – vox)
– infos / downloads on ConseQuence site)
Cybotech / Cybotec (a techno project , the 90ies)
– infos / downloads on ConseQuence site)
and some smaller non mentioned ones..
LABELS and ARTIST COMMUNiTIES
human deadline and der rat der grauen and elektro-kartell are artist communities and labels – you can reach them all by contacting moogulator, maschinensound is the audio download net label base of all moogulator projects !
the magazine (german language) named gothic press and electronic disease can be reached via moogulator, too. die magazine gibt es über moogulator (mail schicken!)
current magazine is Synthesizer-Magazin
Discographies