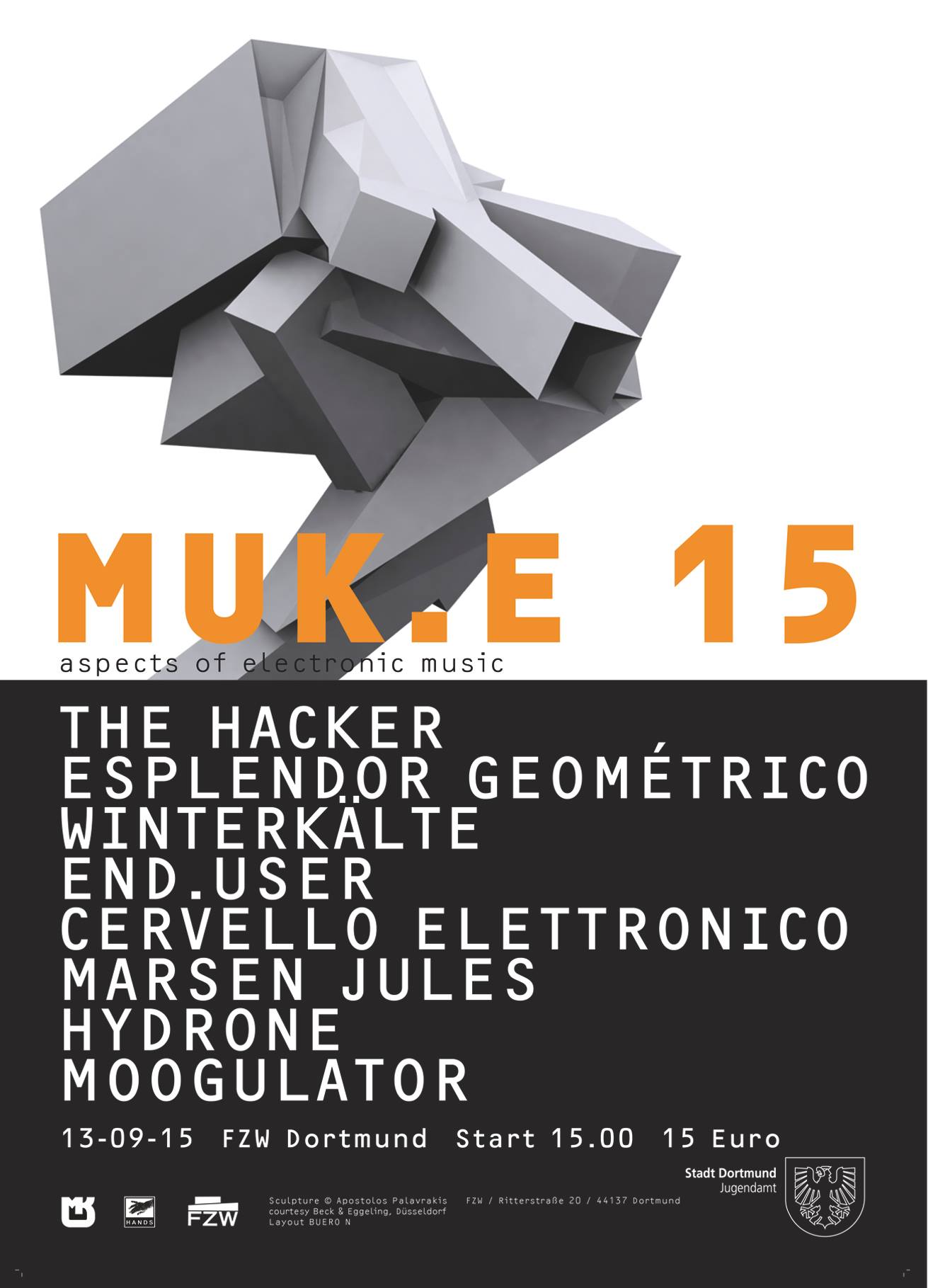 MoogulatoR , On Tour
13.9.2015 MUK.E 15 – Dortmund, Esplendor Geometrico, Moogulator, Cervello Elettronico, The Hacker uva.
will be doing things with modular synthesizers – only at this event!
so – just save the date -> FB Event (Hands)
update: high quality pics by Carsten Stiller can be found here:

Flux project Review (Ital/Eng.): …

L'ambient aiuta a far viaggiare la mente ed i pensieri e, subito dopo, Moogulator si dimostra un perfetto tecnico del suono elettronico, manipolando in real time il suono tramite i suoi sintetizzatori analogici, in un particolare spettacolo da ricordare, tra sensazioni ambient e passaggi ritmici sempre più insistenti e tarantolati, che tutti, più o meno vistosamente, dimostrano di apprezzare.
Review "Schwarzes Bayern" sagt..

"Das FZW ist eine schöne Konzertlocation in direkter Nachbarschaft zum Dortmunder Hautbahnhof, was Anreise, Übernachtung und nächtliches Heimkommen nach dem Konzerttag sehr erleichtert. Nachmittags um drei geht es bereits los, die ersten Soundfetischisten versammeln sich schon in der großen Halle, um dem ersten Set des in Solingen beheimateten Moogulator zu lauschen, der sein Equipment vor dem Mischpult aufgebaut hat – ungewöhnlich, aber auch sehr viel intensiver und direkter als ein Standort auf der Bühne. So kann man dem Künstler buchstäblich auf die Finger schauen, wie er auf verschiedenen Synthies, Grooveboxen und dem danebenstehenden analogen Modularsystem eindringliche und äußerst vielschichtige Soundlandschaften erzeugt. Für mich als technischer Laie toll, das mal aus der Nähe sehen zu können, und absolut faszinierend…"

"Die zweite Spielzeit gerät etwas tanzbarer und heftiger, beschreiben lässt sich Moogulators Sound schlecht, am besten selbst reinhören. Filigran und mächtig, perfekt aufgebaut, voller Feinheiten, vielschichtig, und alles in Handarbeit. Wow!"

>> und es geht noch weiter dort..…
THX: Klaus Hartmann for this pic: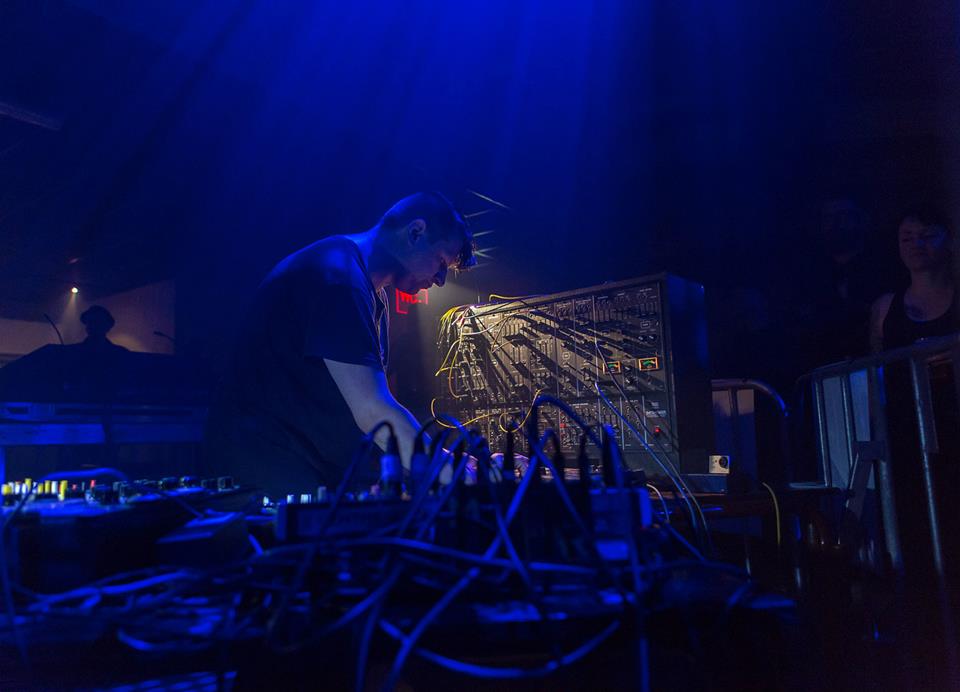 my view from my stage was this..
TIMETABLE for MUK.E 15 – Sunday 13/09/15 – FZW Dortmund
22:15 THE HACKER
21:00 ESPLENDOR GEOMÉTRICO
19:45 WINTERKÄLTE
18:40 END.USER
17:45 CERVELLO ELETTRONICO
17:10 MOOGULATOR
16:25 MARSEN JULES
15:30 HYDRONE
15:00 MOOGULATOR
UPDATE: Images
CAM1&2:
(thx Udo, Phlip & Bianca for pics of the M)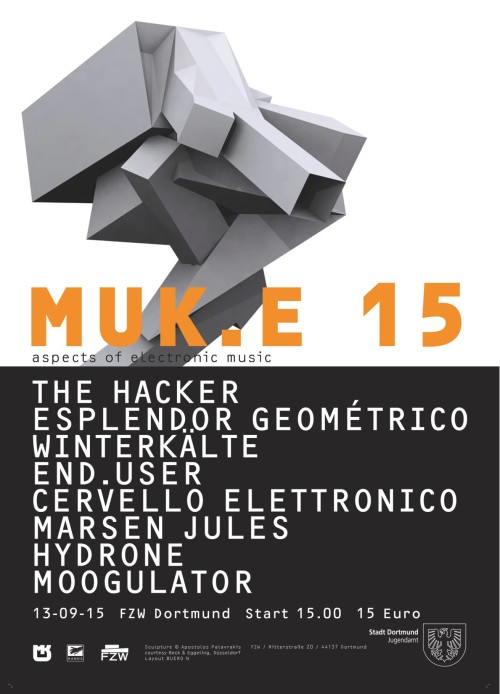 Dortmund – MUK.E 2015 – Aspects of Electronic Music – Festival upcoming.
Esplendor Geométrico, Moogulator, Cervello Elettronico, Winterkälte, The Hacker, End.User, Hydrone, Marsen Jules
Pics 2 by A.De Kok
@FZW September 2015
planning very special stuff there.. ;)
Moogulator will be using Modular Synths – just for this event! ;)